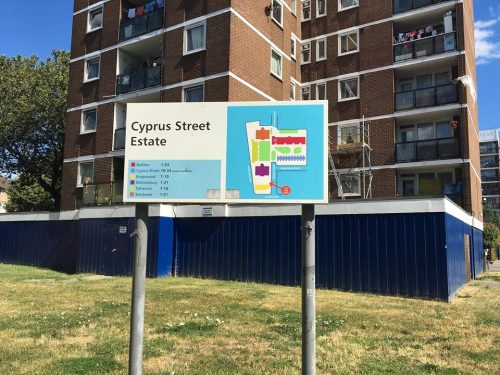 We recently completed a Test of Opinion for a large housing association to gauge support from tenants for a full estate redevelopment versus a refurbishment scheme. This consultation came at the end of a full options appraisal which had engaged tenants of the estate in workshop events and two exhibitions over 12 months.
A Tenants Steering Group has led on selecting us as their independent advisors, selecting architects and commenting on each and every option are they were presented. As it often the case, a number of tenants volunteered hours of their time, using up precious leave from work, sacrificing family time and calling in child-care favours to ensure that proposals were the best they possibly could be. The estate blocks are  mainly heated by electrical night storage heaters and tenants report extremely high energy bills and lack of warmth and hot water. between 20 and 30 families are living in overcrowded conditions.
In the shadow of the Grenfell Tower fire, the refurbishment option excluded cladding as many tenants  were fearful of this and similarly installing gas in the taller blocks was dismissed. However gas central central heating is possible for the lower rise blocks and  this solution has already been applied to the ten town houses. There was proposed some small scale new build and garage conversions to create larger family homes.
The more radical and expensive option of complete redevelopment involved phased decanting of homes with 26 tenants required to move off the estate with a right to return. Tenants interrogated the architects about the extent of the disruption for those who would be living on a building site for several years so that tenants could realistically anticipate  the pain.
The test of opinion took place over two weeks following the final design exhibition.  There was a late campaign led by the tenants of the town houses to reject redevelopment and some misrepresentation of the facts were evident in this. However, in the main tenants participated with an 82% turnout being achieved by the deadline. We believe that this was because the test of opinion returns were confidential either on-line or by post.
The votes cast were split 50% / 50% for each option and only by analysing the results by household (very few joint tenancies) was identifying a marginal preference possible – our very own Brexit.
The landlord has decided to explore further the refurbishment option and to enhance the refurbishment "offer"  in an attempt to win over those who expressed a preference for redevelopment. The outcome of the findings regarding cladding at Grenfell Tower and  the outcome of the pilot renewal of an electrical storage system  over the coming cold months will be pivotal.