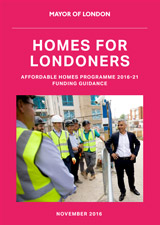 This week, I have been procrastinating over our response to the Mayor of London's Draft Homes for Londoners consultation. We love regeneration, not just for its own sake but because done well it can genuinely improve lives. But so many landlords seem to be hungry to realise land values at the expense of carrying local communities along with their plans. That is my major problem with the Guidance – that it stop shorts of giving existing communities a genuine say in the future of their homes and estates. In fact it even shies away from a test of  opinion in case some conscientious independent tenants and leaseholders advisor interprets that as a ballot. It's extremely short-sighted to believe that gentrification can continue at the current rate and surely nobody believes that there is not a price to pay for clearing working class residents from high land value areas.
Affordable homes can be built with  the approval of residents, it's not easy but infinitely doable.  What is required is for landlords and their consultants to listen as well as speak. To develop business plans and programmes which protect or enhance the lifestyle of existing residents and place value on protecting affordable low cost renting options in the Capital.
Recently, I have heard planners talk about existing estates not being "dense enough"; landlords contemplating demolition of perfectly good social housing to maximise land use; and  architects report that the requirement to make play provision is challenging. No wonder residents are angry.  With thousands of families in temporary accommodation, nobody can argue with the need for more housing, indeed I have never heard a council tenant dispute the need for more housing they are the sector's strongest champions.  But turkeys will never vote for Christmas and tenants and leaseholders will never vote for redevelopment unless they can see something in it for them and the next generation.
So landlords must present proposals which protect secure tenancy rights, do not disadvantage leaseholders and create  great places for people to live in. There will still be painful choices but surely we can get residents to agree that:
Some blocks are beyond the end of their useful life (if they are)
Garages and car-parking are less important than new homes and open space
Community centres don't have to be single storey standalone buildings
Certainly a compromise can be reached, and tenants will (and have in Hackney) vote in a ballot for good regeneration.
Failure to provide appropriately priced  rented housing for the families of bus drivers (Sadiq Khan please note) or shared ownership options to which teachers can aspire will have a catastrophic on London's economy and therefore the UK.