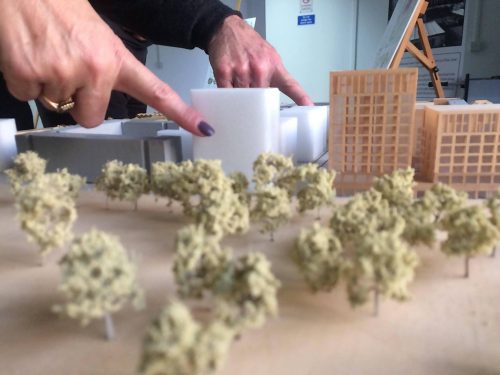 Architectural models have always held a fascination for me especially because they are a great way of creating a perception of a place using unique objects and materials to illustrate character and activity. On top of that, it is impressive to see large urban communities captured in their miniature form and just like the development of real urban environments; the production of architectural models involve a similar process. This process includes initial planning, scaling, a building strategy, identifying suitable materials and phasing. I like to apply these processes when making my own models as it allows production to run efficiently and also highlight any restrictions that may need further modification.
While working with Source, I have had the opportunity to view a variety of models and their effect on residents at consultation events. One thing I observed was that if residents were struggling to understand a concept drawing or written proposal, models always helped to ease understanding and spark their imagination. It also allowed viewers to be very interactive particularly if the model had movable parts just like the one shown in the image below.
Residents are always drawn to models, they are particularly effective tools to illustrate complex design ideas to people who have difficulty understanding plans. At consultation events at  Kings Crescent in Hackney and the Riverside projects in Lambeth and Bromley, a crowd always gathers around the models. Recently our clients have asked architects to produce 3-D scale models of typical flat and maisonette types to demonstrate the generosity of the London Plan room sizes. Residents have described these as "the doll's houses" and who doesn't love a doll's house?
Source Partnership will continue to use models in consultation our on-going regeneration projects and I am happy to build these whenever I get the chance!