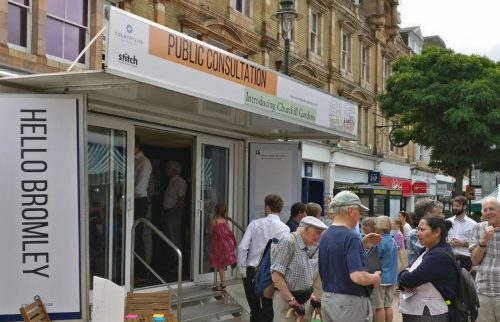 We have recently  introduced six or seven different demolition and construction firms to residents' groups with whom we have worked for some time. What has really struck me is that the best firms have really upped their game in terms of talking and listening to residents.
Sure, most have all mastered the art of producing engaging PowerPoint presentations (or their marketing departments have)  with images of actual built projects mixed up with computer generated images of projects on site or still in dreamland. However, the people talking to these slide shows have developed a real understanding of their target audience and how to draw parallels between the glossy pictures and the estates they about to start work on.
One tenant recently said to me that she wished they had met the builders before they met the architects because only when the construction company came along did they feel they feel that a resident friendly scheme could come out of the upheaval that is estate regeneration. That firm had listened to over an hour of complaints about potential management issues in the new scheme; anti-social behaviour; and pigeons. Clearly,  they could do no more than empathise  and suggest secured by design solutions yet they won the residents group over through listening.
Residents feel that builders understand buildings and what it is like to live in social housing. Probably many of them did as children. Interesting as most landlords (including hers) spend a fortune on protracted design-led consultations to nail down every single thing it is possible to specify ahead of a planning application.  Landlords have rightly wanted to rely on good design to protect the end product from short-cuts and costs saving substitute materials The bad old days of design and build contracts which delivered quickly but to questionable standards.
The best firms are those who work closely with architectural practices to achieve great design features alongside practical niceties such as supply-chain availability, buildability and durability for the end user. Those schemes shine through, they may not win awards but they do deliver fabulous homes that the people, who are living in them, love many years after the grand opening.
Our hot tips are to ask:
Whether the builder and architect (pre /post planning) have worked together before.
How they will agree and communicate any design modifications
Whether you can visit a scheme which has been occupied for more than 1 or 2 years
Well done, you all know who you are,  as do those who are more old school.